G scale trains by LGB and other addictions ...
---
Hi all,

It's been a long time since I graced this site, so before you ask..
1. Yes, I am still alive ( older, slower, but just a sharp witted ).
2. Yes, I still have a couple of Oldsmobiles - a 1971 Cutlass and a 1967 DElta 88 Custom ( that I'll probably never finish... I've left it to a friend )
3. Yes, still caring for my lady, she has MS and it sucks.

So why am i telling you this in this area ?

Well, I have regressed back to a lost youth,( having sold off 7 other Oldsmobiles I had ), and am now back playing with toys... big toys, but toys all the same ( in the eyes of some )... due to having to be more of a homebody now.

1. I run the Vic. Armoured Radio Control Club, catering for radio control Military ground vehicles of all scales ... from 1/35th scale to 1/4th scale tanks, armoured cars, trucks, etc.

2. My latest Obsession is G scale , particularly LGB ( 1:22.5th scale ) quality trains and rolling stock. Know as "Garden Gauge" these trains a built to withstand the outdoors and designed to run on brass track throughout your garden beds ( If you have better lower joints than I ).
Since picking up the New Old Stock of a Hobby Shop that closed in 1989 that put their LGB stock in storage for 29 years (!), i have sold off the modern loco's I got and have bought steam loco's to run on my layout ( once put together ) ... and I'm having a blast with this new addiction.

If you, or others you know here are into G scale trains, feel free to drop me a line ( 0400225186 ) ... I am based in Hallam, in Melbourne's south eastern 'burbs.

Great to see this site is still kicking along ... I hope to contribute to it more in the future.

All the best in Safe, Enjoyable motoring over Easter 2019 ... "Y'all come back in one piece now"
__________________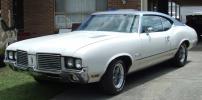 Gary Thorpe
Member - Oldsmobile Club of Australia
Two Oldsmobile's - a 1967 Delta 88 & a 71 Cutlass
This is a 1972 Cutlass "S"
Sth.Eastern suburbs, Melbourne, Vic.