Hi all, first time posting and havent found the area that you introduce your self but I thought I would share a build that Im doing for a fella in Melbourne.
Were Matt & Sheri from Shermatt International in Florida. Some of you may know us but those that dont, just want to say Gday
Cheers
Matt
_________________________________
The Green Machine
This story takes place in a dark lit building in Florida where a 68 S code laid on its side suspended to a rotisserie for over 15-20 years
As some of you may know, I had a 1968 S code convertible sitting down at Sunstate mustangs workshop that I had intended on finishing off where the previous owner left it.
The car was bought out of Ft Lauderdale (restored) and driven across Florida to Sherm's workshop where it was decided that it could have been restored a lot better. Next thing you know, it's a bare shell and slung up on the spinner
After the owner had given up on the exercise, it sat there until now. I knew of the car and checked it out every time I attended the building but never pulled the trigger until about 4 years ago. It then sat there for another 2 years until it was pried from my hands from a fella from Melbourne. AKA Chopper
A very convincing young lad he was and the force was strong in him but was also a very realistic jedi ninja on what I wanted to see done with the car. At the time I was helping build another car on a budget and told him that I wasn't prepared to see it built the same way and told him that if you want me to restore it, that it would have to be done my way and in my time (1 year) and the main thing that sealed the deal was to be patient. Delivery time landed in Oz was estimated of September 2010
A price was laid out itemizing what he would be getting and what he wouldn't along with a $6000 balloon that "could" be tapped into as we all know there's always something not taken into account. I allowed $3000 of my time that I knew in advance wouldn't cover the hours involved but at the time, I didn't mind as it was still my car and I wanted it built a certain way.
With the work schedule I had, the old girl laid up for another 2 months until one day, I finally had a window of opportunity where we could get cracking on it. The car was moved from the dark abyss of Shermans workshop over to Oldsmar Florida (Oldsmar is named after Oldsmobile as it was the testing grounds for R.E. Olds and his cars)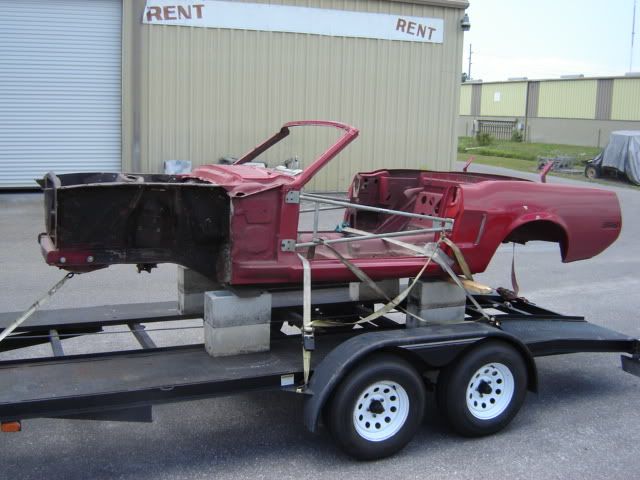 The car was carefully loaded onto another rotisserie where it was decided to get it blasted in house and remove the entire floor pan and replace with new. A cost not expected but very well necessary.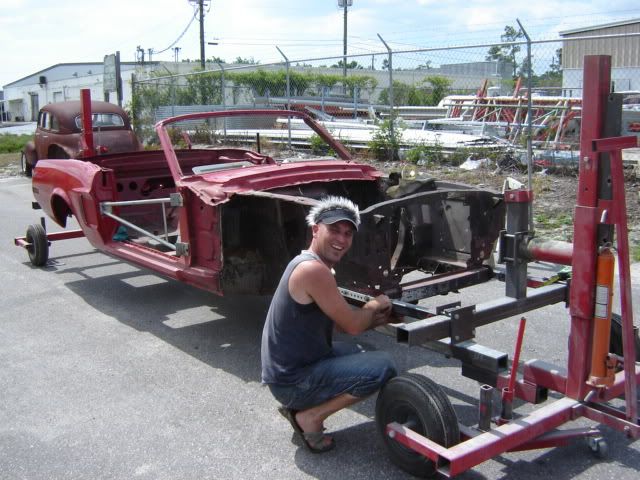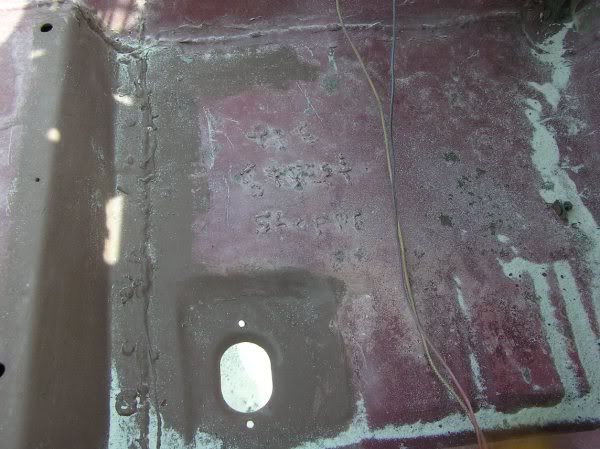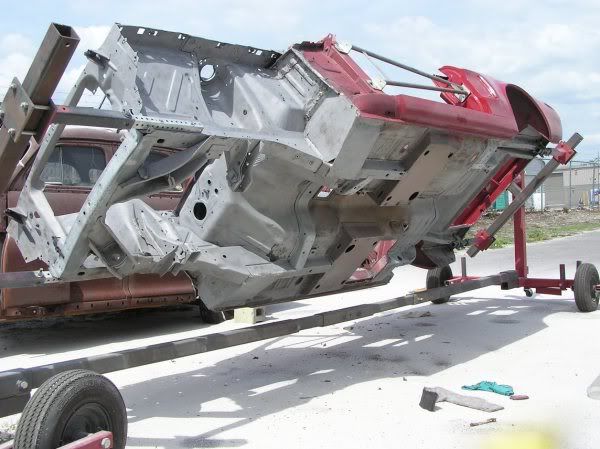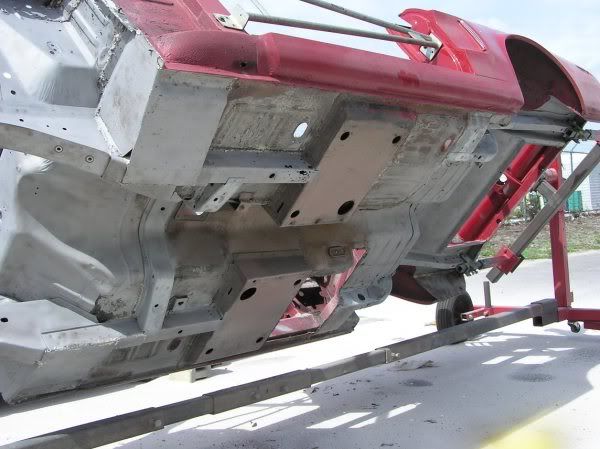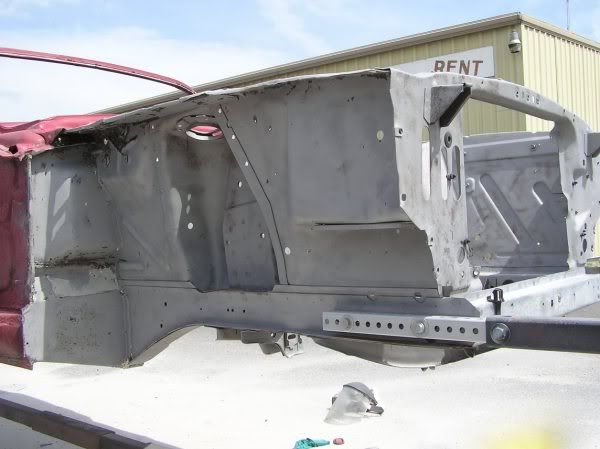 The previous restoration mob had done a job that this car would never twist or buckle. That was the problem. Every seem to every panel that should have been spot welded had been welded with almost 1cm of what I call "spaghetti weld". It was everywhere. One it looked horrible but two….It just looked horrible. It made the 1st day on the job very daunting as it wasn't expected (like all projects) My $3000 quoted for labour was slowly being hacked into. Went through $100 of grinding wheels to attempt to clean it all up and 3 days of doiking around
Then it was back to me where it sat for another few weeks while I tried to find the time to get cracking on it. That just never happened. I had to finish off the Fatkids 500 and get it out of the way. Secondly, I wanted to get it ready for the Turkey Rod run up in Daytona. By the way, a 427 wins hands down over a 428. What a machine that thing was. Once finished, I only owned it for 2 days. Sold to a lawyer in Orlando.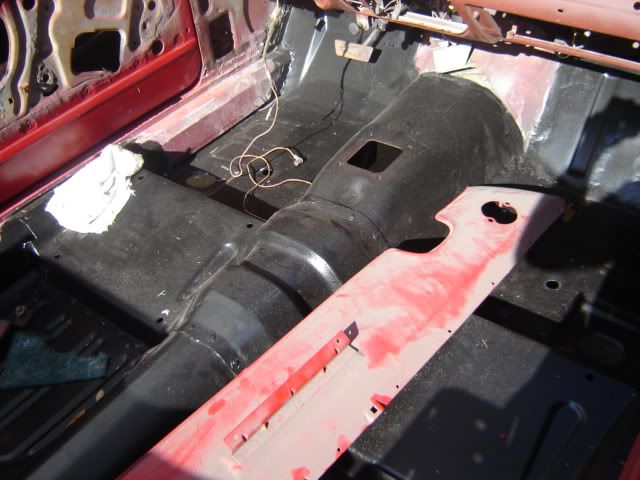 With the new floor pan all done and all the spaghetti weld taken out of it, we now had a car with good bones to work with. There are still a few spots that I wish we could of rectified but they were of no real major concern. Whoever built the car, had used angle iron under the seam to the torque box rail and bent it into shape. That was cut out and linished back but still retains a 4mm space of redundant steel.
The exterior of the car was in fantastic shape and just needed to be re-assembled and get all the panels re- aligned so we could test fit all the panels before it went to paint. Something I had planned to do myself but good ol Chopper threw a spanner into the works and said the Fatkids most hated word…"metallic". He had decided to that it should be painted to what the Marti report said along with the door tag. Lime green…blahhh!!!