Hi everyone just posting this as I know a few guys have a tri chevy and maybe interested.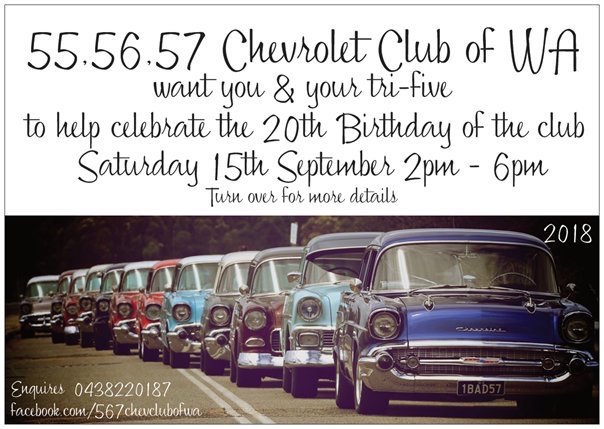 A celebration of the 20th Anniversary of the 567 Chev Club of WA.
All Tri-Series welcome including
Non Club Members!
Music, Food Truck, Coffee Van, Great Company ;-)
Gold Coin Donation to Telethon for entry to the Show n Shine.
We will be getting entertained by the fantastic You & Me Acoustic Duo
Bring your Picnic Chairs, your rugs and have a great afternoon with some fabulous like minded folk.
To be held at Victoria Gardens at the end of Royal Street - East Perth.
Tri Fives will be brought down onto the Grass for prime parking for the show n shine.
Parking for Spectators is available around Victoria Gardens in a few locations, the biggest being the Wilson Carpark behind the Vintage Sellers on the crn, as well as across the foot bridge in the Gardens over the Trafalgar Bridge